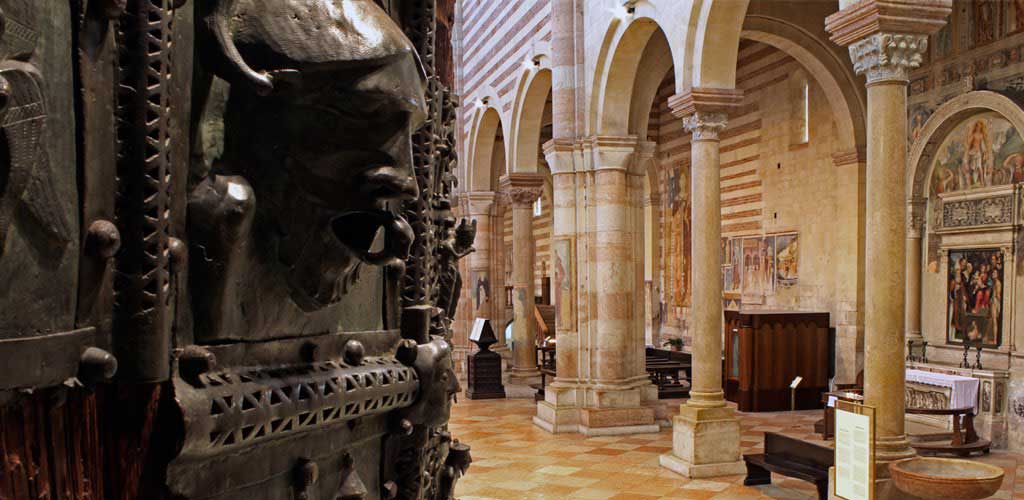 Piazza San Zeno - Verona

The Basilica of San Zeno
The Basilica of San Zeno is without any doubt one of the most beautiful and better preserved examples of Romanesque architecture in the whole of Northern Italy.
What strikes the visitor most is the warm colours of the façade, due to the alternated use of tufa stone and bricks.

The façade, ideally enclosed on the left by the tower of the early monastery (13th century) and on the right by the slender bell tower (12th century), is suggestive in its colors, harmonious in its perfect architectural linee, sober and graceful in its decoration: it shows the influence of Lombard-Emilian architecture in the Veneto.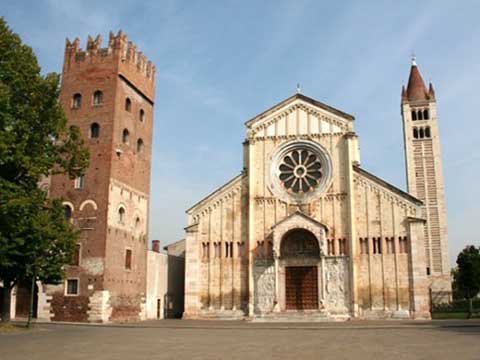 The original nucleus of the complex has been identified in the church and convent that rose on the Roman and later an early Christian burial ground near the Via Gallica. The church and convent had been built on the spot where the Saint had been buried.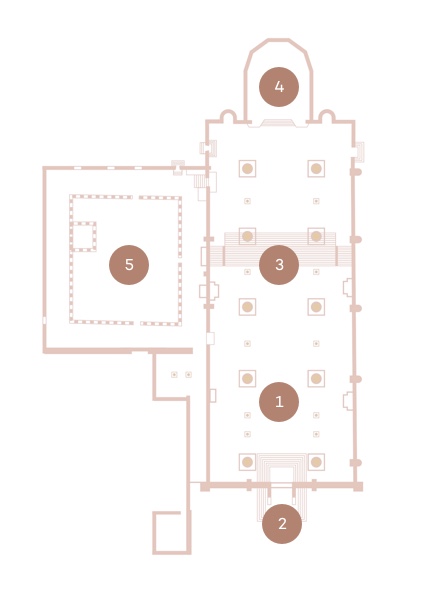 Basilica
Bronze Doors
Crypt
Triptych "A. Mantegna"
Cloister
Visit the Basilica of St.Zeno with
Informations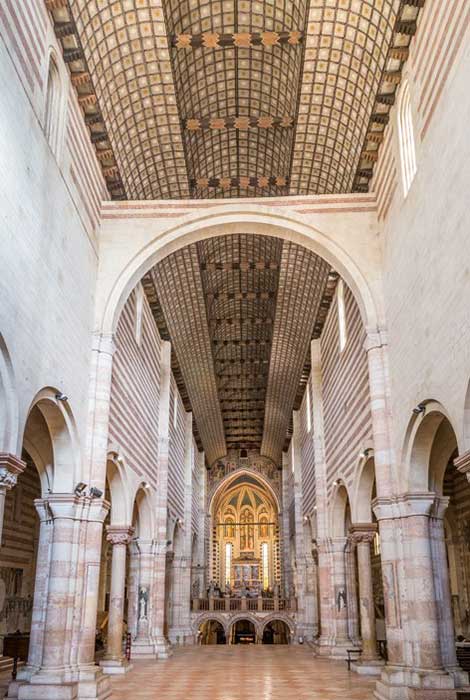 Timetables
---
NEW OPENING TIME FOR VISITS
1 DECEMBER 2023 to 7 JANUARY 2024:
Monday/Friday:  9.30 a.m. to 5.30 p.m. Saturday: 9.30 a.m. - 6.00 p.m.  Sundays and religious holidays: from 1.00 p.m. to 5.30 p.m.  
9, 13 and 16 December: from 12 noon to 6 p.m.
24 December: visits suspended from 2.45 p.m. to 4.30 p.m.
Visits suspended on Christmas Day.
Reservation is not required. You can purchase the entrance tickets in the first church you will visit.
ACCESS by wheelchair is possible only partially at S.Zeno. Free entrance for disabled visitors and courier.
For more information: info@chieseverona.it
Liturgical celebrations
---
Working days: 8.00-6.30pm (only Tuesday and Friday)
Saturday and eves: 6.30pm
Sundays and religious holidays: 8.00 a.m / 10.00 a.m / 11.30 a.m

Tourist visits are suspended during religious services.